Skip to Content
Orthopedic Surgeon in Frisco TX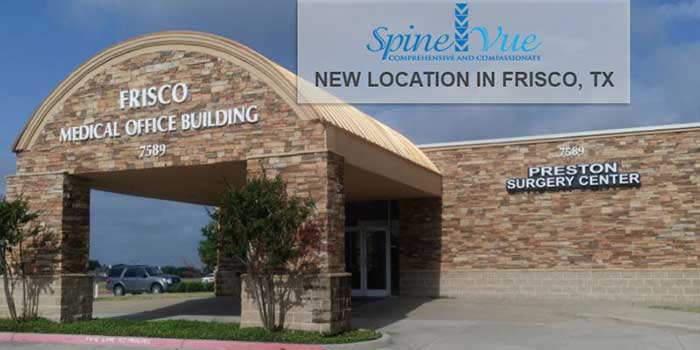 Spine Vue Is Pleased to Announce the Opening of Their Newest Location in Frisco, TX
Spine Vue is well known for the exceptional care that is offered at their thriving practices, which offer back pain treatment for patients in the Greater Dallas Area. Today, we are pleased to announce that Dr. Sean-M. Jones-Quaidoo has opened his newest location in Frisco, Texas. Conveniently located at 7589 Preston Road, Suite 500 in Frisco, TX 75034, in the Northwest quadrant of Preston and Rolater, this new office will be easily accessible to all Frisco residents. With the addition of this new location, Spine Vue will become the premier Frisco spine center.
Center for Spine Care for Frisco Residents
For the past several years, Spine Vue has been recognized as one of the top centers for spine care in Texas. Dr. Jones-Quaidoo has been voted into D Magazine's list as one of the Best Doctor's in Dallas 2 years in a row, most recently in 2016.
Dr. Jones-Quaidoo is a fellowship-trained orthopedic surgeon who specializes in treating spine conditions. He is trained to treat all types of back and spine problems which happen as a result of natural aging, illness, degeneration or fractures. Some of the conditions Dr. Jones-Quaidoo treats are:
Non-Surgical Back Treatment and Minimally Invasive Spine Surgery
Specifically and highly trained in degenerative spinal disorders, Dr. Jones-Quaidoo also specializes in today's most progressive and minimally invasive procedures. These procedures have faster recovery times and a lower risk of complications which can sometimes arise when dealing with the intricacies of open back spine surgeries.
Some of the cutting edge procedures Dr. Jones-Quaidoo performs are minimally invasive discectomy, spinal fusion procedures, laminectomy, vertebral body replacement, and decompression. However, in addition to surgical options, Spine Vue adheres to their belief that surgery is performed only when necessary, and therefore brings a list of non-surgical back treatments to their patients as well.
Why Choose Spine Vue spine center in Frisco, TX?
The trademark of Dr. Jones-Quaidoo's practice is compassionate and individualized care. He and his team dedicate themselves to providing a solution to the suffering that a spinal condition can cause. If you are in Frisco and are experiencing back pain, don't wait for any longer schedule a visit or contact Spine Vue for more information. With Dr. Jones-Quaidoo's help, the back pain you are living with now can soon become a distant memory.