Skip to Content
Innovative Regenerative Medicine for North Dallas and Sherman, TX Patients
Using autologous stem cell treatment and platelet-rich plasma, Spine Vue's regenerative medicine treatments help North Dallas and Sherman, TX patients promote healing and repair for a variety of back injuries and conditions. Spine surgeon and specialist Dr. Jones-Quaidoo, MD, is dedicated to providing innovative and caring medical service to his patients using the latest in technology and techniques. At our spine center, we handle a wide variety of back pain and neck pain issues, including injuries, deformities like scoliosis, and degenerative spinal pain. A cutting-edge treatment we offer is the astonishing healing power of stem cells and platelet-rich plasma. Give us a call today to schedule an appointment with our spine specialists to discuss your condition and treatment options.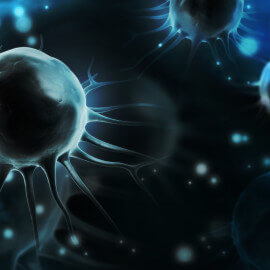 Autologous Stem Cell Treatment
Stem cell therapy requires only minimal manipulation of the harvested stem cells, which get injected into a patient's treatment area in just one day. These cells can accelerate the healing process for conditions like tendon or ligament injuries and moderate-to-severe osteoarthritis. Tissue healing uses two types of stem cells, each of which is your body's repairmen with cytokines to guide them. These two types of stem cells are:
MSC, or Mesenchymal Stem Cells: MSCs prepare an injured area of tissue for other stem cells to repair. They travel through the bloodstream to the injury site, and they're an important component, though not as important as previously believed.
HSC, or Hematopoietic Stem Cells: HSCs do the actual driving of tissue regeneration and repair, and unlike MSCs, their numbers don't decrease as you age.
Treatment Available for Spine Vue's Patients
It's relatively simple and pain-free to harvest and prepare these impressive regenerative cells. Dr. Jones-Quaidoo, MD, obtains fat tissue from your lateral hip region or lower abdomen, or he'll use a suction process to remove bone marrow from the back of your pelvis. We'll then inject these prepared cells into the treatment area once they are ready on the same day. The typical time span for the repair process is two-to-three months, but reduced pain and improved function can be noticeable before then. We continue your treatment with follow-up injections at four and eight weeks following your original treatment injection. Administering follow-up PRP injections allow the stem cells to maintain the regeneration and repair process of the cartilage tissue. Please contact Spine Vue to learn more about our innovative regenerative medicine practiced in North Dallas and Sherman, TX.
Get Relief for Your Back Pain