Skip to Content
Dr. Jones-Quaidoo of Dallas, TX – Top Doctor in the Nation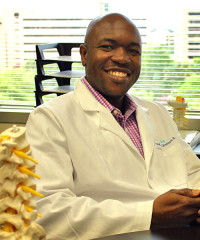 Named Top Spine Surgeon in The Nation
Dr. Sean M. Jones-Quaidoo, a spine specialist at Texas Health Presbyterian Hospital in Dallas, TX, has been announced as ranking in the 1% of all doctors in the United States and one of the top doctors according to patient satisfaction. The ranking comes courtesy of the 2014 Hospital Consumer Assessment of Healthcare Providers and Systems survey. The HCAHPS survey is the first national, standardized and publicly reported patient survey. Dr. Jones-Quaidoo also ranked in the top 1% according to the Press Ganey patient satisfaction survey.
Dr. Jones-Quaidoo is a fellowship-trained and board-certified orthopedic spine surgeon specializing in degenerative spinal disorders. In addition to his medical doctorate, Dr. Jones-Quaidoo also possesses an engineering degree, to which he credits his ability to approach complex spinal conditions with outside the box problem-solving. He leans heavily on therapy and nonsurgical procedures for treatment, and when surgery is required, he and his team at the SpineVue practice work to find the most minimally-invasive procedure possible to reduce trauma and lessen recovery time for patients.
While this approach alone would be enough to garner a doctor high patient satisfaction marks, Dr. Jones-Quaidoo also goes out of his way to take each patient's total health into consideration, carefully addressing issues like hypertension, diabetes, and obesity in addition to spine problems. It's this comprehensive and compassionate care that has been the hallmark of his practice since its inception.
"One of the main things for me is that I treat all patients like family," he says. "I really want to help them own and understand the whole process."
Dr. Jones-Quaidoo's accomplishment was recognized with a luncheon at Texas Health Presbyterian Hospital, where he and Chief Medical Officer Aurora M. Estevez, Chief Nursing Officer Cole Edmonson and interim President Jim Berg spoke on best practices to continue to improve patient experience at the hospital.
In addition to his work with his SpineVue practice and at Texas Health Presbyterian Hospital, Dr. Jones-Quaidoo has also volunteered his time working on complex spinal cases overseas.