Skip to Content
Being a Spine Surgeon in Dallas, TX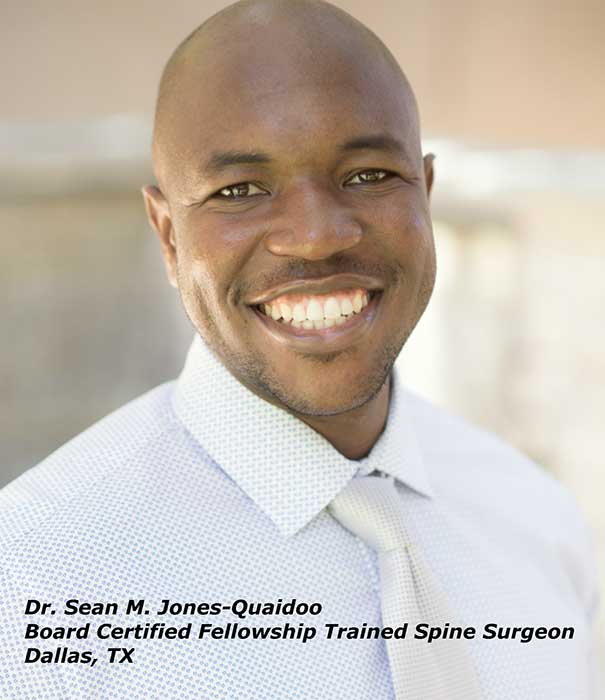 Dr. Sean Jones-Quaidoo has a straight forward approach with his Dallas based spine practice that centers around the patient first and foremost.
"One of the main things for me is that I treat all patients like family, and I really want to help them own and understand the whole process."
When patients come in with pain in their back or traveling down their leg, that's what they want to be addressed, but there may be other problems, like obesity, diabetes or hypertension that they are ignoring because they aren't feeling ill from that at the moment.
Noncompliance with the protocols of those kinds of problems can compromise the treatment options for a particular back condition, so a comprehensive approach that addresses total health is part of the diagnosis and treatment. This more comprehensive approach tied with the compassionate family-like the patient environment is the hallmark of Dr. Jones-Quaidoo's SpineVue practice in Dallas, TX.
Although he is highly skilled at complex procedures and minimally invasive spine surgery, Jones-Quaidoo's relies on a non-surgical approach first for the treatment of the patients he sees. In fact, less than ten percent (10%) of patients actually require surgery at all. However, when surgery is necessary the most minimally invasive procedure is considered to reduce the amount of trauma and ultimately recovery to get those patients back to a healthy productive lifestyle.
An engineering degree has proven to be an asset in his medical practice, in that he uses the problem-solving skills learned as an engineer when approaching complex spine conditions. He thinks outside the proverbial "box," and the more difficult the problem is, the more satisfaction both he and the patient enjoy when recovery is complete.
When in medical school, other students were put off by the complexities of the spine, but Jones-Quaidoo was fascinated. He realized he had found his calling, and even after many years of practice, he still says
"When I get complex cases, I realize I'm living my dream…I wake up every morning and ask how I can help someone else."
If you suffer from back pain, it's important to get help early. The pain can become more debilitating the longer it goes untreated and can affect every aspect of your life, from daily productivity to your emotional well-being. Dr. Jones-Quaidoo of SpineVue in Dallas, TX can provide comprehensive and compassionate spine care and will treat you like family. He believes in working with you to find the best treatment option that will help you get back to a normal healthy lifestyle.
Call SpineVue at 214-452-7705 to book an appointment with Dr. Jones-Quaidoo as your first step to getting back to functional living.