Skip to Content
Best Spine Surgeon in Dallas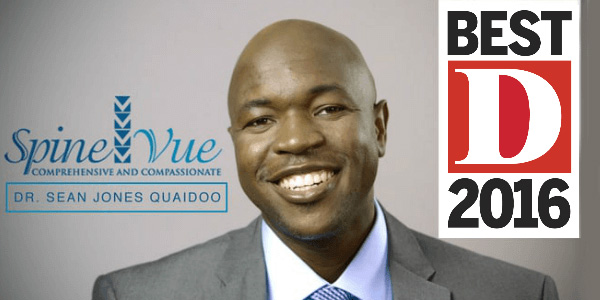 Dr. Sean M. Jones-Quaidoo:
According to the 2014 Hospital Consumer Assessment of Healthcare Providers and Systems (HCAHPS) survey, Dr. Sean M. Jones-Quaidoo has been named as one of the top 1% of all doctors in the United States, qualifying him to be referred to as a "Best Spine Surgeon in Dallas". Dr. Jones-Quaidoo is also honored to be in the top 1% for patient satisfaction, based on the Press Ganey survey.
The nationally standardized survey from the HCAHPS (the Hospital Consumer Assessment of Healthcare Providers and Systems) is "a patient satisfaction survey required by CMS (the Centers for Medicare and Medicaid Services) for all hospitals in the United States. The Survey is for adult inpatients, excluding psychiatric patients."
The Press Ganey Survey has been collecting data through patient satisfaction surveys for almost 30 years, so as to identify issues in service or communication with patients. Being ranked highly in this survey speaks for the expertise and professionalism a doctor portrays within his or her practice.
Orthopedics is defined as "a branch of medicine concerned with the correction or prevention of deformities, disorders, or injuries of the skeleton and associated structures like tendons and ligaments". Dr. Jones-Quaidoo is board-certified and fellowship-trained in orthopedic surgery and specializes in degenerative disorders. To complement his expertise, he also holds an engineering degree, to which he credits his unique thought process behind solving complex issues of the spine.
While he is extraordinarily proficient as a surgeon, Dr. Jones-Quaidoo pursues non-surgical options whenever possible, choosing therapy and non-surgical options at every opportunity. If surgery is the ultimate and only solution, his sole concern is bringing the patient optimal results, the least amount of trauma, and shortest recovery time. Dr. Jones-Quaidoo's ongoing knowledge of the most up to date and minimally invasive procedures is invaluable in achieving this goal.
The personal attention that Dr. Jones-Quaidoo offers his patients does not stop with treating their orthopedic conditions. His first consideration is for their total health, including problems such as diabetes, obesity, high blood pressure, or any other conditions that may inhibit good health or contribute to their inability to thrive. Compassion is at the fundamental core of the Spinevue practice, as Dr. Jones-Quiadoo states, "One of the main things for me is that I treat all patients like family. I really want to help them own and understand the whole process."
Apart from his award-winning work at Spinevue and Texas Health Presbyterian hospital, Dr. Jones-Quaidoo generously extends his skills into the humanitarian arena, volunteering his time and services to help those suffering from complex spinal conditions overseas.
If you are seeking a physician to help diagnose and treat a condition of the spine, you can be assured that Dr. Jones-Quaidoo is recognized as one of the Top Spine Surgeons in Dallas. Contact Spinevue today for a consultation.