Skip to Content
Best Doctors in Dallas County – D Magazine 2016 Award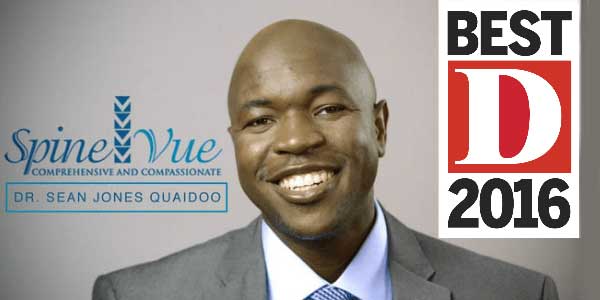 The Best Doctors in Dallas County is an annually published list that D Magazine prestigiously puts out to honor the leading doctors in their practices. Chosen by their peers, this list is an accumulation of the talents and uniqueness that makes up each individual doctor. To be recognized in your category is an honor, and with just three doctors recognized in each category, being unique is key.
Spine Vue is proud to host Dr. Jones – Quaidoo and his talents that have put them in the top 1% of patient satisfaction in the nation. The targeted approach to spine care and his comprehensive level of care is the basis for Dr. Jones – Quaidoo's practice, and his driving force inpatient care. Dr. Jones – Quaidoo puts emphasis on non-operative procedures that give specialized attention to patient care. Becoming a patient of Dr. Jones – Quaidoo equates to a plan of action that puts your health and priorities first. Understanding your unique needs, and making sure that you understand the procedures are just as important to Dr. Jones – Quaidoo as the operating room procedures.
His philosophy encourages each patient to become familiarized with his or her individualized approach to care. "Surgery is not about where you start, it's about where you finish; so I tend to leave that as the last option." Options and attentiveness to detail are the reasons why Dr. Jones – Quaidoo was awarded Best Doctors in Dallas County for 2016.
His fellowship training from both orthopedic and neurosurgeons, along with a degree in engineering is what makes Dr. Jones – Quaidoo widely sought after for the most difficult of spinal procedures. Restoring quality of life for patients suffering from back pain and major spinal injuries is conducted through less invasive treatments and an understanding of how things go together. Dr. Jones – Quaidoo credits his engineering degree as a factor that allows him to understand how the spine structurally comes together.
D Magazine awards this prestigious title to doctors that have been vetted by their peers through a system of nominations and voting. The process is completed over a length of time that allows doctors in all fields to focus on the works of their peers and the understanding of how lives are being changed by these miraculous doctors. Becoming a 'member' of the honorable Best Doctors in Dallas County list is not taken lightly by any of the awardees. Being voted upon by your peers has to be one of the most humbling experiences, and Dr. Jones – Quaidoo strives to be voted on again and again in the coming years.
With his innovative techniques, attention to detail and truly specialized and unique style of patient care, it's no surprise that Dr. Jones – Quaidoo ended up on 2016 list of the Best Doctors in Dallas County. Seeing Dr. Jones – Quaidoo in the future will no doubt, go hand in hand with seeing procedures that save lives and tremendously impact the quality of life.